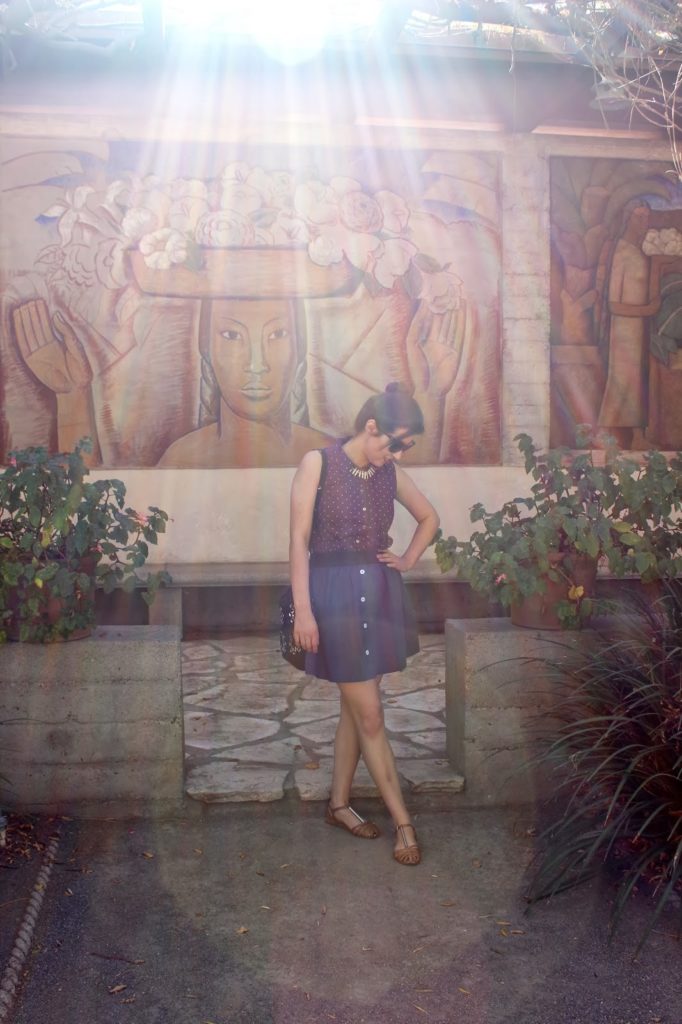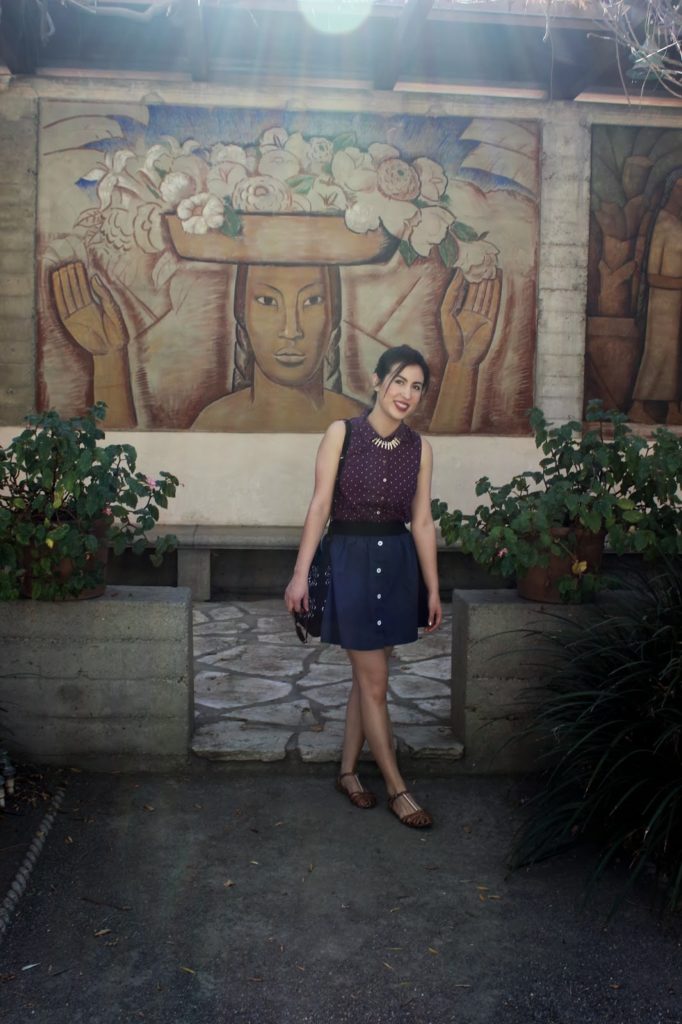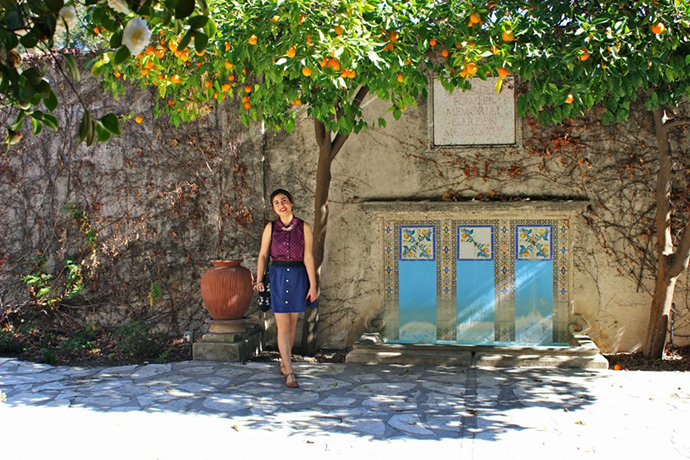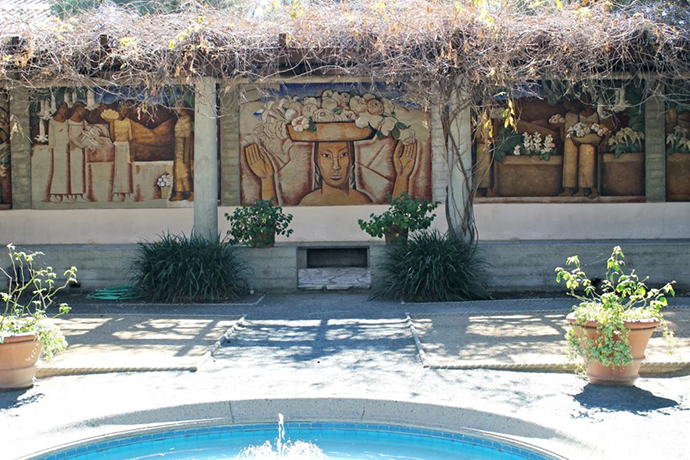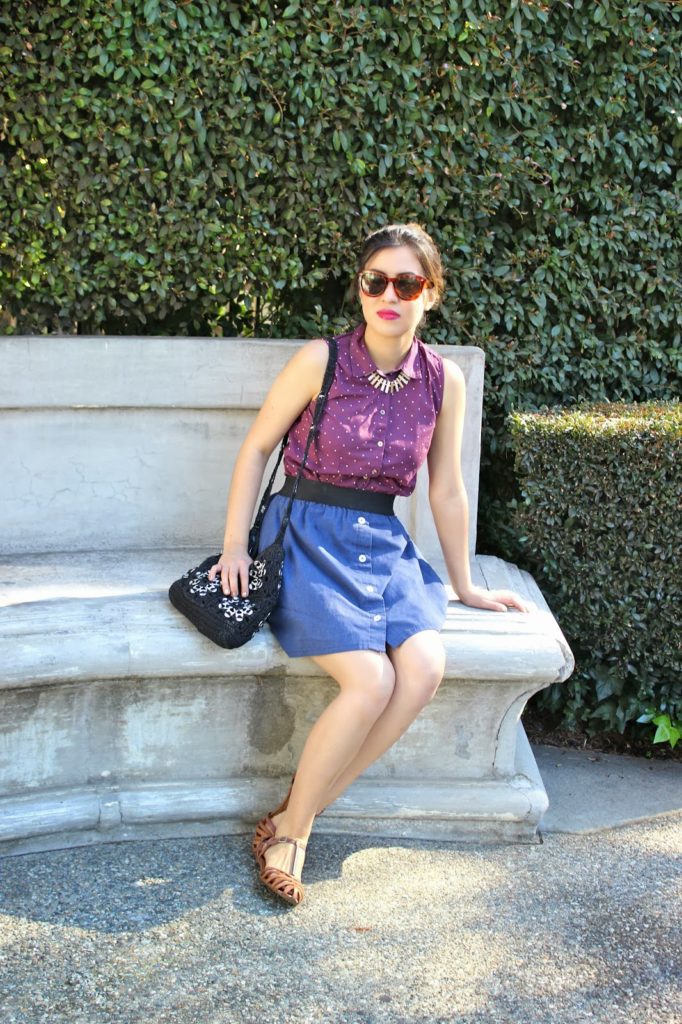 Photos by: Ale Veyna
Earlier this week, I got to drive my middle sister Ale back to Scripps College, which also happens to be my Alma Mater. I was extremely sad to see her go after having her as a partner in crime for almost a month. Even though Scripps is only 30 minutes away, we hardly get to spend time together because we're both always busy.
To make parting with my sister less bittersweet, I spent some time in the Margaret Fowler Garden while at Scripps. It's a beautiful enclosed garden in the middle of campus which boasts beautiful murals by Mexican Artist Alfredo Ramos Martinez. As a student, I loved spending time here because it's such a tranquil and inspiring space. It will always be a place that is near and dear to my heart.
Speaking of things that are special, I didn't realize until now that most items I wore that day were handmade by loved ones. Gifts seem to have a deeper meaning when someone takes time to handcraft something specifically for you. My mom made the blue skirt that I'm wearing. She used to always sew dresses for me when I was a little girl, but not so much anymore. Therefore, it's always special when she takes the time to make me something to add to my wardrobe.
The crocheted purse was made by my abuela (grandmother) Chela. She used bottle caps to create a flower pattern throughout the crochet purse. Therefore, it makes for a great conversation starter whenever I use it! My grandmother used to be a professional seamstress but had to give up sewing once she lost the ability to bend her fingers due to illness. However, she is not the type of person to let a disability hold her back and take away her creative spirit. She somehow still manages to hold the crochet needles in her hands and make beautiful creations such as this purse.
Putting together this post has allowed me to reflect on the people, places, and things that are special to me. I hope that I am able to discover more of that as I continue to work on this blog.
---
Shop this look
H&M Sunglasses | Ruche Necklace (similar
here
) | H&M Top | Dolce Vita Sandals | Handmade Skirt (c/o of My Mom) | Handmade Crocheted Purse (c/o of My Grandmother) | 
MAC Lipstick in Rebel