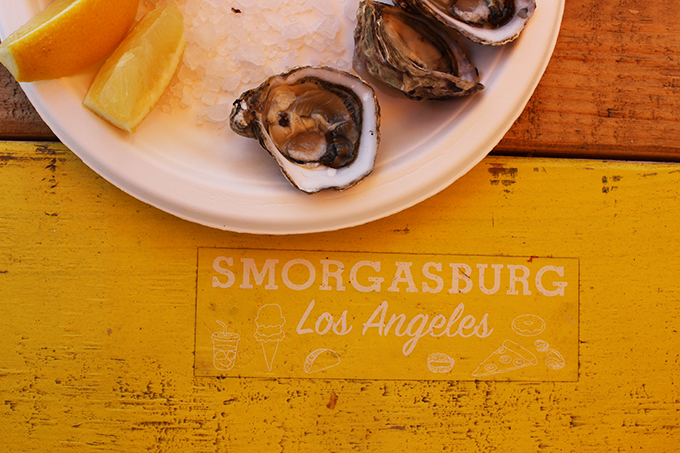 Smorgasburg LA
During my last trip back home to LA, I was finally able to check off Smorgasburg LA from my list of things to do. For those of you who are not from LA, you may be wondering what this is. Well, every Sunday Smorgasburg LA turns an empty parking lot into the place to be by bringing together an array of amazing food vendors and fun shops. But, let's be honest, I was mainly there for the food. And while it was overwhelming to be surrounded  by so many options, I did manage to do my fair share of eating and was extremely satisfied with my picks. Keep on reading for a few of my recommendations.

Amaze Bowls delicious acai bowls were the first thing I tried at Smorgasburg. I was having a difficult time deciding what to eat, and my sister's friend Gaby was kind enough to share her bowl with me while I made up my mind. It was definitely the best way for me to start off my day because the acai bowl was both delicious and refreshing. Amaze Bowls also serves their acai in coconut bowls, so I really wish I had taken a picture of their beautiful creations to share.
I don't usually crave lobster, but I knew I had to try Lobsterdamus when I walked by their booth!  Lobsterdamus offers both half and whole lobsters, and other fun dishes such as lobster truffle fries and nachos. I went for the fries, since they were on the cheaper side, and was very satisfied! It was the perfect way for me to cure my craving for seafood and salty food. I was afraid that I would only get a very small serving of lobster with my fries, but luckily that was not the case at all.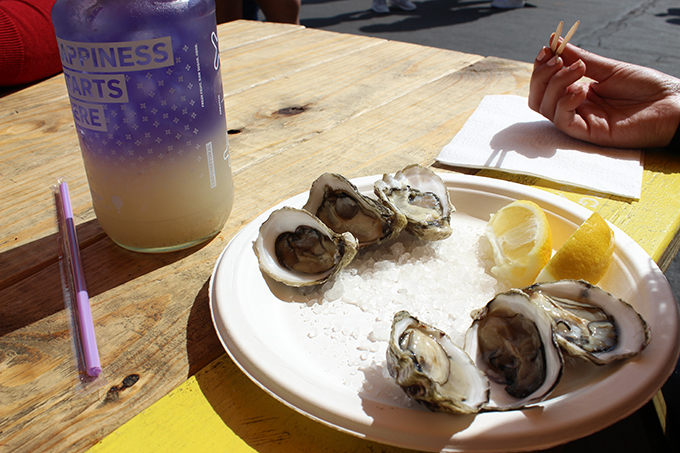 My sister Ale and I were feeling fancy, so we decided to buy a plate of oysters form the JollyOyster. They were quite yummy and were reasonably priced at $13 a plate. I also liked that they had a few options to choose from.
PopdUp is a fun vendor that sells naturally sweetened teas and sodas in beautiful glass bottles. I actually did not get my own drink, but Ale let me try hers and it was really yummy! Plus, I love that they also encourage customers to bring back their bottles to receive a discount on drinks. It's a great way to be sustainable while encouraging customers to come back for more! And why wouldn't you want to when their drinks are delicious and their bottles are super fancy?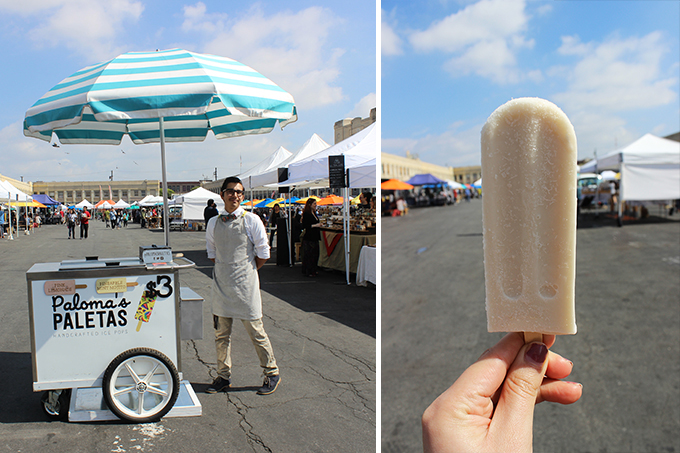 At only $3 a popsicle, Paloma's Paletas is quite a deal. They have a great selection of interesting flavors such as mint mojito and Vietnamese iced coffee. While I wanted to try them all,  I ended up settling for a milk coconut popsicle and it was quite delicious. It reminded me of the Mexican brand popsicles that I would often have as a kid.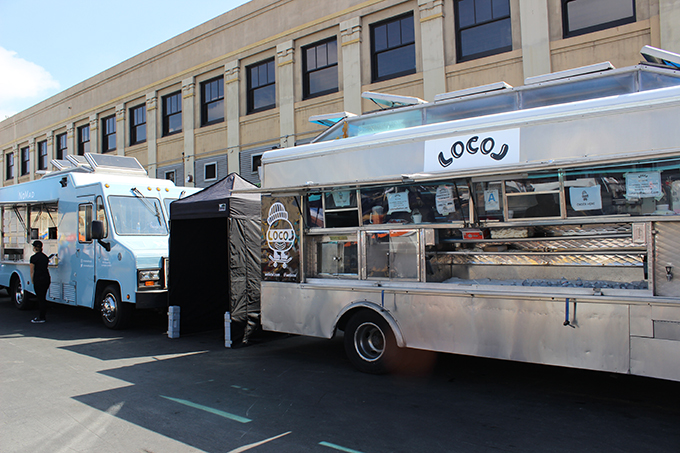 Other Suggestions and Tips
While I wanted to try all the food at Smorgasburg, it was literally physically impossible for me to do so. Luckily, I had two partners in crime who were also there to try food. Some of the vendors I remember them saying they really enjoyed included Cheezus, Brothecary, Shrimp Daddy and Viva Los Cupcakes. I also want to try Donut Friend and LocoL, but that'll have to wait until my next trip back home.
Also, I would say that you should take advantage of the free 2-hour parking if you're planning to attend. Although I'm a huge supporter of taking public transit whenever possible, I would advise against it this time around. I say this because Alejandra and I decided to take the Gold Line to Little Tokyo Station and it took us about 30 minutes to walk there. On top of that, it wasn't the most scenic route.
I really hope you enjoyed this post and these recommendations. Is there anything you would like to try on your visit to Smorgasburg LA.?