Now that the weather is warming up, I'm trying to find ways in which I can be creative in the kitchen without making my apartment feel like it's a billion degrees inside. In addition, I've been craving something cool and sweet, that doesn't make me feel like I'm overindulging. That's where these yummy honey yogurt, berry and granola breakfast popsicles come in. I've seen the idea all over Pinterest, and finally decided to give it a go.
I'm glad I did because this is going to be a favorite treat for me to make all summer long. These breakfast popsicles are great because they're healthy, only require a few ingredients, and make a great quick breakfast that will last you a few days (unless you eat three a day like me). I've even included a recipe for homemade granola if you want to make your popsicles a bit more special and have some time to spare. Keep on reading to learn how to make these delectable frozen treats yourself!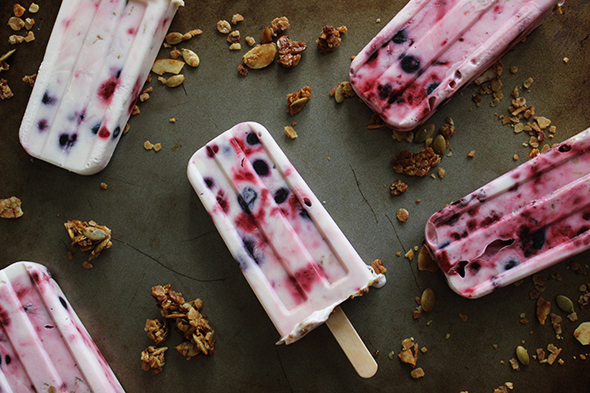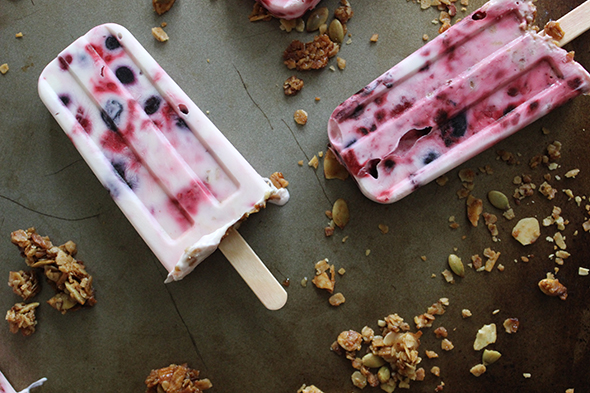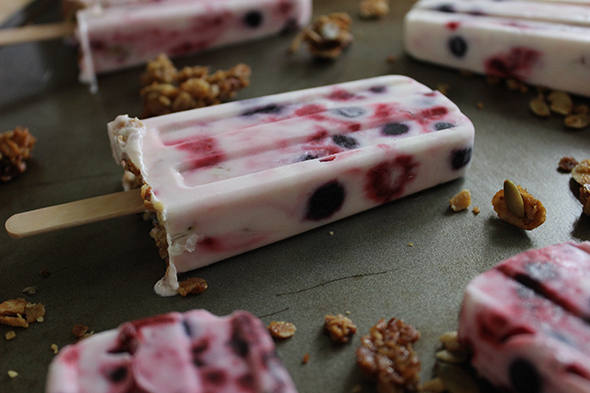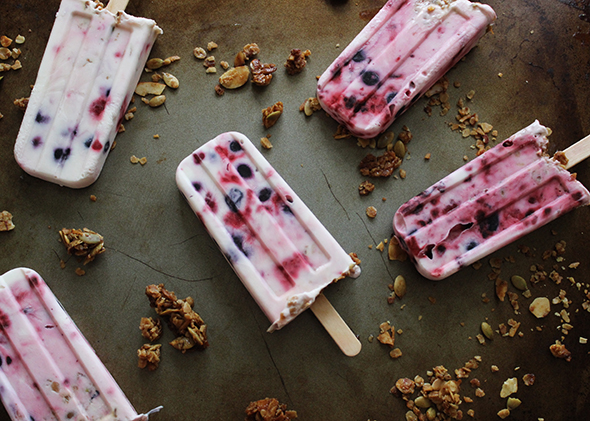 Honey Yogurt, Berry and Granola Breakfast Popsicles
(makes 10 servings)
Ingredients
2 Cups of Honey Greek Yogurt
1 Cup of Frozen Berries
1/2 – 1 Cup of Granola
Instructions
In a bowl, mix the yogurt and berries
Pour the mixture into the molds until they are 3/4 full. Then, push the mixture in with a spoon to ensure that it fills up the mold.
Fill up the rest of the mold with granola. Use a spoon to push it down so that it mixes with the yogurt.
Refrigerate for 3-4 hours and enjoy!
Granola Recipe (makes 2 cups)
Adapted from Chowhound
1 1/2 Cups of Oats
1 1/2 Tbsp of Brown Sugar
A Hint of Cinnamon
1/4 Cup of Pumpkin Seeds
1/4 Cup of Coconut Flakes
1/4 Cup of Slivered Almonds
1/8 Cup of Olive Oil
1/4 Cup of Honey
A Hint of Vanilla Extract
Instructions
Preheat your oven to 300 degrees Fahrenheit
In a bowl, mix the oats, brown sugar, cinnamon, pumpkin seeds, and almonds.
In a separate bowl mix the wet ingredients. Then, pour into the dry ingredients and mix well.
Line a baking sheet and pour the mixture over it, making sure to spread it out well.
Finally, bake the granola in the oven for 45 minutes. Take the pan out every 20 minutes, and stir the mixture so that it bakes evenly.
I hope you all have a great week ahead of you and that you've enjoyed this recipe post. If you're looking for more popsicle recipes to check out, you can do so here.
xoxo,
Helen